Four Paws Pet Of the Month
Do you have a great story to share of how a product or service from Four Paws Pantry & Spa has made a difference in your pet's life? We want to hear it, and share it with other pet lovers, who may benefit from hearing your story! Maybe your pet is feeling much better because of a food, supplement or grooming service. Maybe you got their favorite toy from us? Let us know, because that's why we are passionate about we do!
Use our online form to submit your story and a photo of your pet. We will post all stories, and each month one pet will be chosen as the pet of the month, receiving a $75 Four Paws Pantry & Spa Gift Card!

We will post all entries here on our website. The winner will be picked each month, contacted individually and announced in our next e-blast. Sign up to receive our updates and newsletters.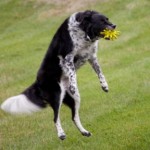 Our pet of the month contest is a chance for our customers to tell us how a product, service, treat or toy from Four Paws Pantry & Spa has enhanced, changed or made more enjoyable, their pet's life. If your pet's story is selected for that month, you will win a $75.00 gift card from Four Paws.
By way of example to show you the kind of stories we are looking for; I'd like to share with you my story about my Birda.