Carrie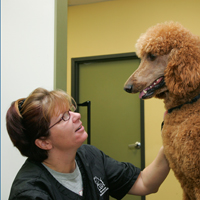 I was raised on a farm, so I guess it's natural that I have an affinity for animals. I rescued my first puppy when I was 16, and I've constantly had doggy companions since. Grooming was definitely a change in career path for me. I'd spent a lot of years at a desk in various capacities. In a chance meeting at a New Year's Eve party, December 31st, 2006, I was introduced to a dog groomer, who invited me to follow the same path. I started as a bather in Augusta, Georgia, and following the grooming dream led me from there to Holmdel, New Jersey.
I came back to the Midwest to be closer to family, and continued to groom. I took some time away from grooming salons while I stayed home to take care of my father. I continued to groom some neighbors' dogs in my garage, and then I was approached and invited to take a look at the shop that has become Four Paws Pantry and Spa. I've been grooming there since September 2012. Every step of my grooming career since that very first introduction has felt like destiny, as if doors were opening in front of me, showing me the path to follow my dream.
Jessica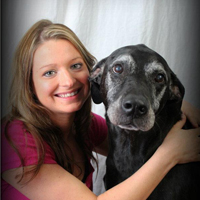 I have been grooming dogs for eleven years, and am familiar with all breeds and styles, although I feel I can always learn something new! I began my dog career at 14, when I volunteered at an Animal Hospital bathing and walking dogs. In 2000 I got a job as Animal Care Assistant/Doctor Assistant at another animal hospital. That really advanced my knowledge in animals. I learned more about different breeds, skin problems, allergies, how to handle fearful dogs, all kinds of great stuff. Part of my job was cleaning up dogs after surgery. Doing that is when I realized I might like grooming. In the end of 2001 I started my training in grooming. I loved it and have been grooming ever since.  In October, 2008 I joined what is now Four Paws Pantry & Spa. I love my customers, especially the four legged ones!
Besides being an animal lover, here are some things you may not have known about me…I also teach Dance, Tap, Jazz, Hiphop and Ballet. I love music, and play the piano. I'm a big sister, in the Big Brother Big Sister program. My great dane is my baby and my biggest love.  My hobbies are riding dirt bikes, fishing and I just love being outside.
Hannah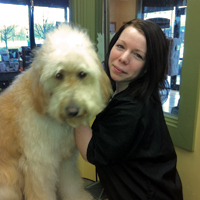 My name is Hannah and I have a ten year old boxer named Paige. I have been working with animals for over seven years and I have been grooming for four years. I have worked at couple different veterinary clinics, grooming salons, and pet rescues.
I love animals and always do my best to make sure your pet feels safe and comfortable when they are here for their spa day.