I'd like to thank Debra Manfield for her help and caring when I was desperate.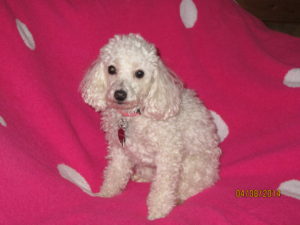 McKenzie, our 14 year old miniature was very ill. We were referred to Four Paws to speak to Debra from our vet. I called and we drove straight in. Debra suggested food and gave us samples to see if we could encourage McKenzie to eat. Sadly, she would only possibly eat it once and then refuse. I ended up doing a lot of cooking to see what she might possibly eat that day. Sometimes eggs, sometimes hotdogs, who knew?
Debra also gave me support with what to do when McKenzie reached her final days. Of course it was traumatic but I was able to get through with Debra's loving suggestions.
I feel thankful that I had Debra, who understood us. McKenzie has passed away, we'll miss her forever. I can't thank Debra and her staff at Four Paws, enough.
Thank you!
Debra Berger-Pfefer