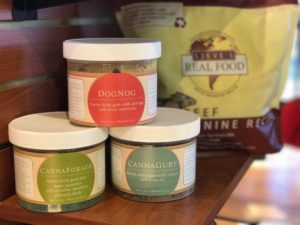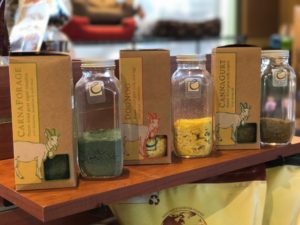 One of the very first companies to distribute a raw meat product nationwide!  Steve's Real Food has always been committed to quality and now they are also committed to being green, ensuring that their entire product life cycle has little impact on mother nature.
Steve's Raw Goat Milk Yogurt with Coconut flour and Chia seeds. A tasty treat packed with probiotics, minerals and vitamins. This yogurt boosts the immune system, supports healthy digestion and is very yummy.
Enhance your pet's diet with Steve's Freeze-Dried Goat's Milk. It's packed with superfoods to help alleviate many health issues. Available in three flavors: CarnaForage, DogNog and CannaGurt.
CarnaForage aids in digestion for pets with diarrhea, IBD or leaky gut by utilizing a wide variety of greens including spirulina and dandelion, which provide high levels of L-glutamine, an essential amino acid. The addition of milk thistle strengthens the liver from toxins.
DogNog is a tasty snack with turmeric, yucca, freeze-dried eggs, cranberries and many more anti-inflammatory ingredients.
CannaGurt is beneficial for dogs suffering from seizures, anxiety, pain, cancer and other cognitive disorders. It's infused with CBD oil and hemp protein (high in fiber and omega-3 & omega-6 fatty acids).