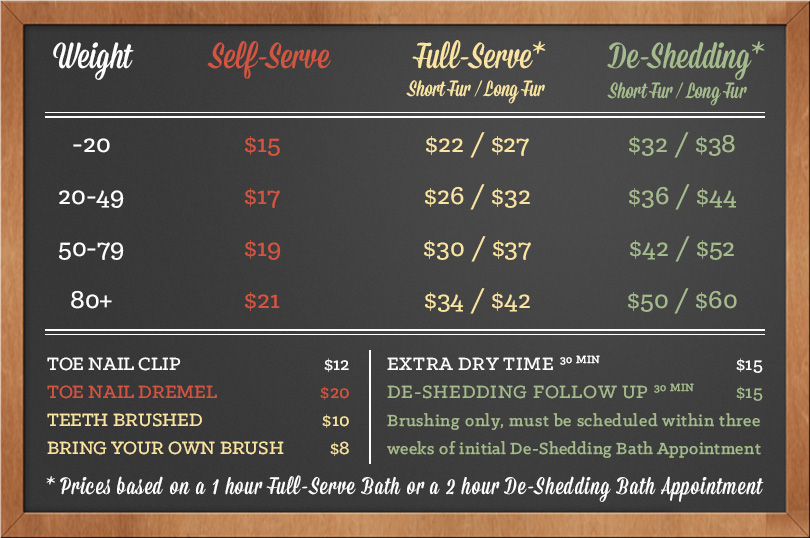 Self-Service Pet Wash & Drying
We've taken the stress, hassle and mess out of bathing your pet with our state-of-the-art pet wash and drying stations! Gone are the days of struggling with the tub or wrestling with the garden hose in the backyard. Our stainless steel tubs and Hydro Surge systems (complete with convenient ramps) provide a safe and comfortable bathing experience for both you and your dog. We provide a variety of SLS, DEA, Paraben, and silicone free shampoos and conditioners for your use, including specialty products for different skin ailments – even a specially formulated "de-skunking" solution! With our industrial, professional-grade dryers, grooming tools, and a finishing spritz of natural pet cologne, your pet will leave Four Paws clean and shiny.
Full-Service Pet Wash & Drying
Don't have time to do-it-yourself? Leave it to the experts! Four Paws offers complete, full-service pet wash and drying with our friendly and experienced bathing staff. This is the perfect option for in-between grooming appointments, for dogs whose coats do not require trimming, after a particularly dirty outing, or just for the owner on the go who wants to keep their pet smelling fresh and their coat clean and free from mats, which can lead to a variety of skin and health problems.
*All full-service prices are based on one-hour appointments. For extra large or furry dogs additional time may be required at $15.00 per half hour increment.
De-Shedding
Perfect for the pooch with serious shedding, this multi-step process focuses on removing the undercoat of your pet – the major source of pet shedding. Easy and harmless for your pet, de-shedding is the perfect solution for keeping coat where it should be – on your pet and off the couch! De-shedding service includes a bath.
*All prices are based on a two-hour appointment. For extra large or furry dogs additional time may be required at $15.00 per half hour increment.
Nail Trimming
| | |
| --- | --- |
| Regular nail trimming protects more than just your floors, it protects your pet's paw pads too! Don't forget to ask about our variety of paw balms to protect and heal cracked pads. | |
Teeth Brushing
| | |
| --- | --- |
| Dental hygiene isn't just for humans, it's important for pets too! Regular teeth brushing reduces bad breath and helps prevent periodontal disease and other health problems. Let our friendly staff help keep your pet's teeth healthy and shiny – and ask about special treats and other products that can help keep them that way in between visits. | |