Earth Animal No Hide Chicken Chews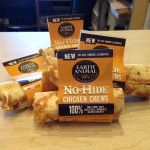 No-Hide Chicken Chews are a long-lasting, 100 percent digestible chew, created for your dog's enjoyment and your own peace of mind. The chicken has been carefully rolled, cooked, and uniquely dried for a one of a kind chew your dog will love!
No-Hide Chicken Chews are always made from American farm-raised chicken with no added hormones, steroids or chemicals. No-Hide Chicken Chews give new meaning to dog chews. Try the safer, healthier alternative today!
Earth Animal Wraps
Inspired by recipes straight from our own kitchen, our Wraps are made with only the purest and freshest ingredients.
They are proudly baked in a U.S.D.A inspected human facility in Pennsylvania. Yes, of course, all of our ingredients are sourced in the U.S.A. We wouldn't have it any other way!