By Kelly Wurth
You're not the only one who can feel stressed and anxious when moving. Our pets can sense our moods and feelings and experience associated anxiety. Our pets, like us, can be very habitual and easily get used to certain daily routines. When those routines change they take notice. I want to encourage you to keep your pet in mind as you search for a new home as well as before, during and after your move. For most of us our furry friends have become a part of our family so their needs should be taken into consideration as well as the home features we will need to take care of them properly.
THINGS TO CONSIDER DURING YOUR HOME SEARCH
Is there an existing fence or is this an investment you will need to make after you move in. Fences are important when considering the safety of your pet.  It's ideal to ensure that they cannot get out and other animals cannot get in. It will give you peace of mind to know that they have a safe place outside to burn off energy, which is key especially in the case of my 2 year old Shiba. She still acts like a puppy.
When thinking about backyard pet safety you should also assess whether or not there are mature trees or a covered patio/deck to allow for a shady, cool place in the summer so your dog can continue to enjoy the outdoors.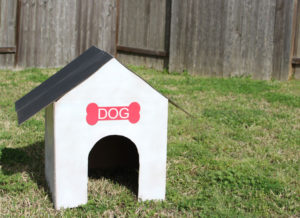 We all become accustom and comfortable to our existing home environment.  We find areas in the home that we take ownership of and can call our own.  Pets do this as well.  Ensure there are places in the new home for them to relax, play and eat out of the way of humans busy, daily activities. This will allow them to quickly feel safe and happy in their new environment.
Oftentimes when we are searching for a new home we may accidentally run into the neighbors.  If we are seriously considering a home we may even make the effort to knock on their door and introduce ourselves in the hopes of getting a preview of what life would be like in that neighborhood.  As you do this you should consider your future pet neighbors as well.
Consider how these other pets may effect the daily routine and lifestyle of yourself and your pet.  Does the neighbor's dog bark a lot, seem aggressive or unsociable with other people and animals?  Are there pets roaming the neighborhood off leash?  If your yard is not fenced, how many of your adjacent neighbors have fences?
Do a search of your new neighborhood and the surrounding area for pet-friendly locations.  This could be anything from dog parks, walking trails or local cafe's that welcome pets on their patio. This is especially important to consider if you will be moving to a place with a small back yard or no secure area on your property for your dog to play off leash.  Also consider whether or not you will need to find a new veterinarian for your pet.  How about pet stores for supplies, a new groomer, kennel for boarding or doggy daycare?
THINGS TO CONSIDER DURING YOUR MOVE
Before the Move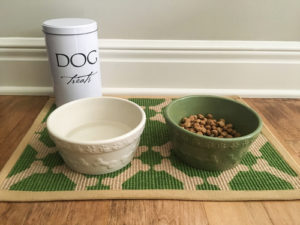 Be Calm & Maintain a Routine:  I realize that keeping calm during a move is an almost impossible request.  One thing that can help with this is ensuring that you start preparations for your move early on.  Like 8 weeks in advance if possible.  Download my FREE Moving checklist to help you stay organized and feel less stressed.  Maintaining a routine is also most likely an impossible request, but continuing simple things such as going for an early morning walk, keeping your pet on their feeding schedule or taking them to doggy daycare will help to reduce any anxiety they feel.
Packing:  Pack your dog's room/area last that way they have a place they can go where they feel safe and comfortable amongst the chaos of moving boxes.  This will also allow them to have continued access to toys and their food and water in the place they have become accustomed to finding it.
During the Move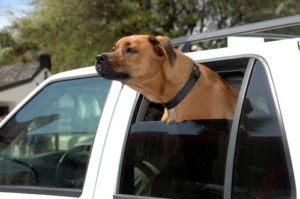 Moving Day:  Whether you are moving yourself with the help of friends and family or having professional movers take care of it you should get your dogs out of the way for the day.  Consider doggy daycare if that is apart of their typical routine or taking them to family or friends.  If none of these options are available then considering crating them in a room out of the way if they are used to this and feel safe in their crate.
Travel:  Once the boxes and furniture are out of the way you need to consider how to get yourself and your pet to your new home.  Your options depend a lot on how far away your new home is, how your pet is used to traveling with you in the past, and whether or not this is something they enjoy or dislike.

Driving:  If your driving them you will need to decide whether it's best to crate them or use a pet harness.  Be sure to allow extra time if you are traveling a long distance as you will need to take more pit stops then normal to allow your pet time to stretch her legs and take regular bathroom breaks about every four hours. If you need to stay overnight ensure you have booked accommodations that allow pets.
Flying:  If you are flying to your new home then ensure you have either checked online or contacted the airline/airport for requirements in reference to traveling with a pet.  Even for us humans air travel restrictions and requirements are constantly changing.  Determine whether your dog is small enough to travel with you underneath your seat or if they will need to ride in the cargo area.  Things you may need are a crate, leash, pet harness, toys/treats/food, etc.  Also, you will most likely need up-to-date pet records which shows that your pet has had all the necessary vaccinations.  Once you arrive at the airport consider paying a few dollars for a baggage cart to keep your hands available so you can maneuver through the airport with your pet.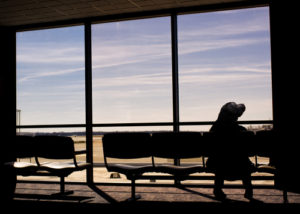 After the Move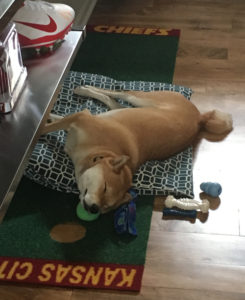 Settle In:  Your finally in your new home and you can breath a sigh of relief.  The hard part is over and the exciting part of setting up your new home can begin.  Some dogs may feel anxious about this new place and others may enjoy the adventure.  Either way you should help them get acquainted with their space by unpacking their toys, food dishes and pet blankets/beds right away.  Consider not washing pet blankets and beds before the move which will allow them to have a familiar scent when you unpack them at your new home.
Routine:  Routines in your new home and neighborhood will be just as important as they were in your old home therefore you should establish them immediately.  Think about what your dog's old schedule and routine looked like and work to mimic that.
Change of Address:  As you work to change your address consider your pet's tags as well.  Ordering new tags with your new address is a good idea considering this is a new neighborhood for you and your pet.  If they are an escape artist you want to ensure that neighbors know where they belong and how to contact you.
Make an Appointment:  Contact your new veterinarian so that you can stop by to meet them and provide up-to-date medical information about your pet.  Consider doing the same at your local doggy daycare to allow you pup to get acquainted with the staff and new doggy friends before you officially drop them off for an entire day of play.
Go Exploring:  Our pets are as curious as we are so take them along for a ride and go explore your new neighborhood and the surrounding area together.
For help with your next move, contact Kelly today!
Kelly Wurth
A New Kind of Realtor®
Iconic Homes KC
Platinum Realty Affiliate
9393 W 110th St, Suite 170
Overland Park, KS 66210
Call or Text: 913.244.1364
Email: kelly@iconichomeskc.com