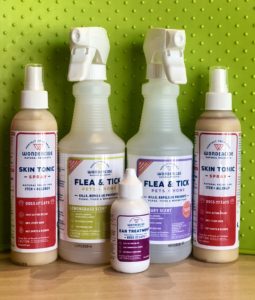 Introducing Wondercide:
Our newest all natural product to get rid of fleas and ticks!
A Pack leader's best friend. This aroma-therapeutic natural spray is proven to kill, repel, and prevent 98-100% of fleas, ticks, and mosquitoes without harmful chemicals, protecting your loved ones smartly and safely.
We are also carrying their Skin Tonic spray which is amazing for fast-acting relief ideal for irritations caused by allergies, bug bites, hot spots, dry and itchy skin, burns, rashes and more!
And last but not least, we have brought in their ear treatment which will help prevent ear infections and eliminate uncomfortable ear issues and parasite problems such as (ear mites, yeast and bacteria!)
Stop by the store to learn more about Wondercide!