Catnip has been a Feline favorite for ages. Cats love to roll, jump, chew, sniff, lick and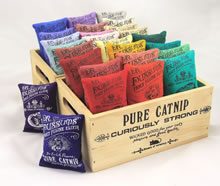 crash around with it, and Dr. Pussums pure fresh catnip is the best of the best. Catnip is a perennial herb that has a stimulating effect on cats, and perfect for play.
The sacks are hand sewn and last about 3 years before needing replaced. They come in a variety of sizes and scents. Made in Maine, you have the comfort of knowing exactly where and who is making your cats catnip. Each toy is filled with pure fresh catnip, with zero fillers or cotton batting to take up space.