Locally sourced, all natural and made in America, what more could you want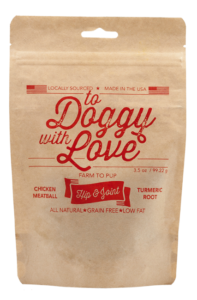 for your dogs treats? To Doggy With Love is the tasty treat your dog will be begging for. All the locally sourced meats are from farms within 100 miles of the facility.
No preservatives, no nitrates, no GMOs, that's what all natural means to Doggy With Love products. Add on that the foods are all human grade, and made under the most rigorous USDA safety standard and you have a great, tasty treat for your dog, that you can both feel great about them enjoying.